Ed's keynotes, workshops, and leadership trainings are perfect for: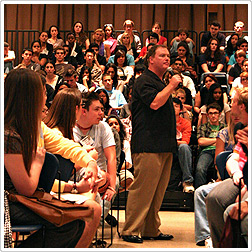 Orientation & First Year Programs
Leadership Conferences
Fraternity and Sorority Events
Student-Athlete Programming
Drug and Alcohol Awareness Programs
Senior Year Transition Programs
Accepted Student & Parent Events
Residential Education/Orientation Leader Training
Customized Leadership Trainings
---
Orientation & First Year Program
Title: "College Crossroads: Finding Your Way to a Successful First Year"
Ed's high-energy, humorous, and interactive one-hour keynote is guaranteed to complement your comprehensive orientation program. Ed directly addresses the issues that first year students encounter including: personal responsibility, respect, drugs and alcohol, scholarship, balance, leadership, getting involved and making a difference.
Outcomes of Ed's program for first year students include:
A sense of belonging to the incoming class and campus community
New awareness of respect and responsibility for choices and the impact on others
Motivation to excel in academics and co-curricular activities
Inspiration to take on the challenges ahead and get involved
Ideas and strategies to make the first year in college a success
---
Leadership Conferences
Title: "Making Your Mark: Leadership Principles to Meet the Challenge"
In this one-hour keynote Ed shares his personal experiences, insights, and real life examples to teach the principles that are essential to being a leader.
Outcomes of Ed's Leadership program include:
Action steps to living the four principles of leadership
Specific strategies to maintain a positive attitude during the changes and challenges of being a leader
Keys to setting and attaining personal and professional goals
Ideas on how to make an impact as a leader and inspire others
---
Student Athlete Program
Title: "Playing Big in the Game of Life"
What does it take to be a successful student-athlete today? How do you effectively balance your role as a leader on and off the field? What can you do to deal with the challenges and pressures you face each day? How can you take your experience as a student athlete to the real world?
In this powerful, one-hour program Ed will address the issues that relate directly to student athletes including: respect, responsibility, leading by example, attitude, alcohol, drugs, relationships, communication, dealing with setbacks, and being a positive change on campus and in the world.
Outcomes of Ed's Student Athlete Program include:
New awareness of respect and responsibility for choices and the impact on others
Keys to setting and attaining personal and athletic goals
Specific strategies to take your attitude to the next level
Inspiration to lead by example and to take your student athlete experience into the real world
---
Senior Year Transition Program
Title: "Your Future after College"
In this 90-minute interactive program, Ed teaches graduating students the skills that will empower them to successfully make the transition from their senior year to life after college. What can students do to set themselves apart when they are job searching, interviewing, networking, and building relationships beyond college?
Outcomes of Ed's Senior Year Transition Program include:
Five important communication techniques for success
Keys to setting and attaining personal and career goals
Real life practices that are sure ways to strengthen personal and professional relationships
How to produce powerful results in interviews and meetings
---