Ed's school-wide assembly program is approximately 45-60 minutes in length depending upon your schedule. He addresses real issues that the youth of today and schools are facing.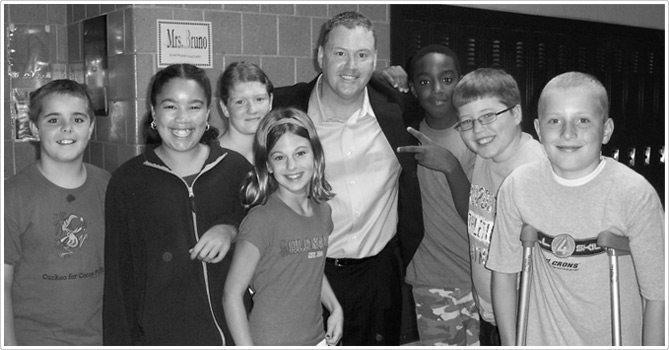 Whether it is an auditorium of a hundred students or a gymnasium of two thousand, Ed instantly captures the audience's attention through his passion, personal experiences, humor and real life examples. His assembly programs and workshops are high-energy, interactive, and leave a lasting impact.
The areas of focus that Ed covers in his assembly program "Making Your Mark" are as follows:
The power of respect and responsibility
The impact and consequences of our choices and decisions
The issues of bullying, peer pressure, drugs, alcohol and tobacco
Appreciation for our abilities and the people in our life
The courage to believe in oneself
The power we have to reach out and make a difference
Ed has designed the following educational and interactive workshops and leadership trainings for students. These high impact sessions give participants new skills and techniques that help them discover, develop, and strengthen their leadership abilities. They are a great follow up to his assembly program or keynote presentations.
All workshops and leadership trainings are customized to meet the specific needs of your high school or middle school. Each program can accommodate up to 100 students. Workshops are approximately 45-60 minutes in length. Selected workshops can be combined into a two to three-hour Leadership Training.
---
Goal Setting & Attitude
Title: "Making it Happen!"
This interactive workshop is designed to teach students the skills that are essential to setting and achieving their goals. Participants will discover how to put their passion and enthusiasm into real projects that produce specific, measurable results. Participants will be given specific strategies on how to increase and maintain their positive attitude.
---
Communication & Presentation Skills
Title: "Clear, Confident, and Powerful"
Communication is at the center of what we do. It's how we learn, share, discover, and inspire. The ability to speak effectively in public, group or conversational situations is an important skill to have as a student leader. This interactive workshop focuses on strategies that can help participants overcome their fear of public speaking and improve their presentation skills. Students are also taught different techniques that can help them communicate in a clear, confident and powerful manner.
---